DPS Series, 160 to 500 kVA
Three Phase, scalable up to 4000kVA in parallel
Leading in power performance and efficiency
Delta's Ultron DPS is a double-conversion and IGBT-rectifier three phase UPS. With the three level IGBT topology for both PFC (power factor correction) and inverter, the Ultron DPS features industry leading performance of up to 96% AC-AC efficiency. Thanks to Delta's advanced digital PFC control, it also has low iTHD < 3% and high input power factor > 0.99 resulting in significant total cost of ownership (TCO) savings. Aiming to achieve the highest availability possible, Delta has enhanced special designs for battery management, hot-swappable fans and ease of maintenance.
The excellent power performance and high system availability of the Ultron DPS provide customers with the benefits of a stable power supply, high power efficiency, low capital investment and low overall operation cost.
Applications: Data Center Telecom Industrial Network Security Lab Medical Metro
Delta Ultron DPS 160~400kVA Efficiency is Tested by TÜV
High Reliability
■ N+X redundancy or hot-standby configuration increases system reliability
■ Wide input voltage range (DPS 160~500kVA : -40% ~ +20%) allows the UPS to work in harsh electrical environments
■ Field programmable sequential start-up reduces the impact on the generator
■ Intelligent fan speed control and redundant fan design prevent UPS from overheating and increase system reliability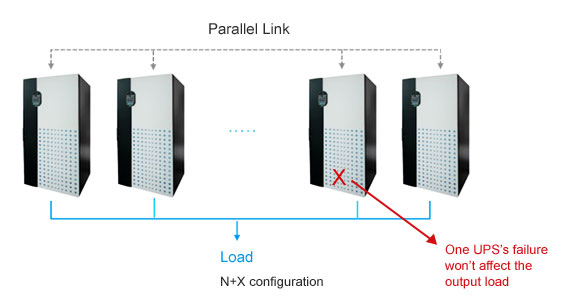 Reduced Total Cost of Ownership■ High AC-AC efficiency even at light load levels reduces energy loss and saves operating costs
■ High input power factor (> 0.99) and low input harmonic distortion (iTHD < 3%) eliminate the need to over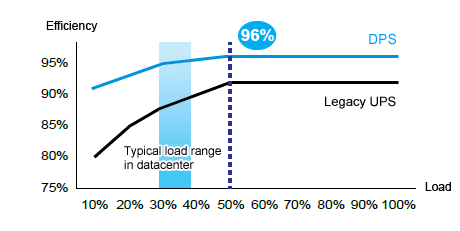 High FlexibilityDelta Ultron DPS series UPS are available in full power ratings ranging from 160kVA to 500kVA in a single unit to fit each specific application requirement.
There are three different cabinets of Ultron DPS series UPS with optimized footprint. Customers can save valuable space from the leading power density and compact design. Light weight also reduces transportation and installation costs.
Parallel expansion of Ultron DPS series UPS up to 4000kVA without extra hardware allows quick capacity upgrade to meet business growth.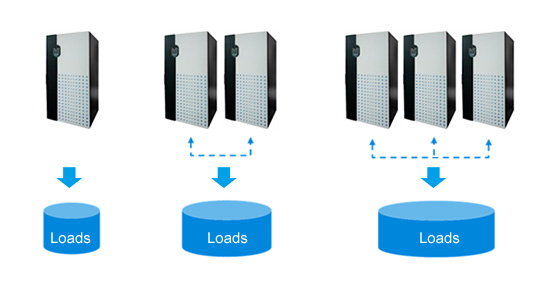 Common batttery configuration of Ultron DPS in parallel mode can support customers to:
■ Significantly save installation space and rent expenses
■ Reduce additional investment on batteries
■ Make UPS expansions easier without addi tional battery investment
■ Save the costs of possible floor loading enhancement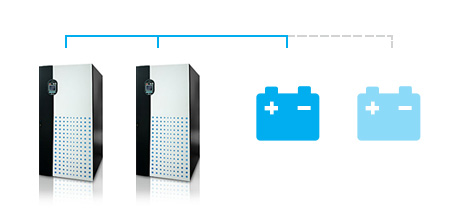 Easy Maintenance■ Hot-swappable fans reduce maintenance lead time (applicable for models 160~500kVA)
■ Built-in manual bypass allows "zero downtime" to ensure system availability during service maintenance
■ Main I/P and O/P switches detection provide quick diagnosis when faults occur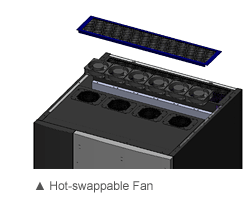 Intelligent Battery ManagementDelta intelligent battery management system can sustain battery lifespan and the capacity of battery backed up through the functions of :
■ Battery temperature monitoring & compensation
■ Battery remaining capacity displayed in percentage
■ Over charge/discharge protection
■ Boost/float stage charge
■ Auto/manual battery test
■ 38~42 battery units in one battery cabinet optimizes investment (applicable for models 160~500kVA)
Model
DPS-160K / DPS-200K / DPS-300K / DPS-400K / DPS-500K
 Power Rating
 [160K]: 160kVA/144kW
[200K]: 200kVA/180kW
[300K]: 300kVA/270kW
[400K]: 400kVA/360kW
[500K]: 500kVA/450kW
 Input
 Nominal Voltage
 380/220, 400/230, 415/240 Vac (3 phase, 4-wire + G)
 Voltage Range
 324~477 Vac (full load), 242~324 Vac (70%~100% load)
 Current Harmonic Distortion
< 3% *
 Power Factor
 > 0.99
 Frequency
 45~65Hz
 Output
 Voltage
 380/220, 400/230, 415/240 Vac (3 phase, 4-wire + G)
 Output Power Factor
 0.9
 Voltage Harmonic Distortion
 ≤ 1.5% (linear load)
Voltage Regulation
 ± 1% (static)
 Frequency
 50/60 ± 0.05 Hz
 Overload Capability
 ≤ 125%: 10 minutes
≤ 150%: 1 minute
 Display
 Mimic LCD supports multi-language and LED indicators
 Communication Interfaces
 Standard
 RS232 x 1, Smart slot x 2, Output dry contact x 6, Input dry contact x 7, (Input dry contact (two sets), REPO x 1, External battery cabinet status detection x 1, External battery cabinet temperature detection x 4), Parallel port x 2, USB port x 1
 Conformance
 Safety & EMC
 CE,RCM
 Other Features
 Parallel Redundancy
 Up to 8 units
 Emergency Power Off
 Local and remote
 Event Log
 500 records
 Efficiency
 AC-AC
 Up to 96%
 ECO Mode
 Up to 99%
 Environment
 Operating Temperature

0 ~ 40°C

 Relative Humidity
 0 ~ 95% (non-condensing)
 Audible Noise
[160K/200K]: <70 dBA
[300K/400K]: <73 dBA
[500K]: <76 dBA
 IP Protection
 IP20
 Physical
 Dimensions(WxDxH)
[160K/200K]: 850 x 865 x 1950 mm
[300K/400K/500K]: 1600 x 865 x 1950 mm
 Weight
[160K/200K]: 697 kg
[300K/400K]: 1200 kg
[500K]: 1220 kg
 * When input harmonic distortion is less than 1%.All specifications are subject to change without prior notice.

DPS 160 / 200 / 300 / 400 / 500 kVA (Leaflet) – 233,12 Kb

DPS 160 / 200 kVA (User Manual) – 5481,37 Kb

DPS 300 / 400 kVA (User Manual) – 11954,88 Kb